Your special someone deserves the perfect proposal, and planning a destination proposal is the ideal way to show your love. Whether you decide on a romantic beach getaway or a special surprise in your favorite city, creating an unforgettable experience can be difficult. But with careful consideration and preparation, you can create the perfect destination proposal that will make memories they'll never forget. In this article, we'll walk you through the steps of planning a perfect destination proposal.
Step 1: Choose the Destination
Finding the perfect spot for your proposal is an exciting part of the process. Consider what your partner likes and base your destination choice on those interests. If they love nature, then look into countries with stunning natural beauty or city parks. If they are a foodie, think about cities known for their culinary culture. Once you have your destination in mind, you can begin making plans for the perfect proposal.
Step 2: Pick Accommodations
Once you've chosen your destination, it's time to book accommodations. Consider the type of experience you'd like to create. Whether it's a romantic beachfront resort or a cozy bed-and-breakfast, look for hotels and Airbnb locations that meet your criteria. Be sure to read reviews so you can get an idea of what other people thought.
Step 3: Plan Activities
In order to make your destination proposal special, plan activities that you both love. This could include a sunset dinner cruise, a hike to a scenic overlook, or even an outdoor movie night. Depending on the type of experience you're looking for, research attractions and experiences around the area.
Step 4: Create A Memory Book
Creating a memory book is a great way to surprise your partner and make the proposal even more special. Compile photos, letters, and other memories from your relationship into a scrapbook that you can take with you on the trip.
Step 5: Pick The Perfect Spot
Now it's time to choose the perfect spot for your proposal. Research the area and look for spots that you can both enjoy. Whether it's a quiet beach or an iconic monument, pick a spot where you can pop the question in style.
Step 6: Pick The Right Ring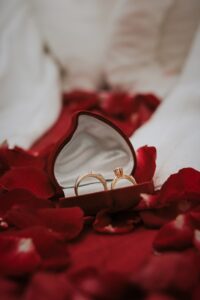 The right ring is essential to any proposal. Do some research on what kind of ring your partner would like and pick the perfect design. Whether you want a classic diamond ring, or something more unique, make sure to pick one that is meaningful and special to both of you.
There are many custom engagement rings available, so you can find one that is custom designed and crafted to your specifications.
Step 7: Enjoy The Moment
Now it's time to enjoy the moment and savor each second of the experience. Have a plan for what you will say and make sure that your partner knows how much they mean to you. Most importantly, don't forget to take photos of the special moment so you can look back on it in the future.
Sum Up
Planning a destination proposal takes time and effort, but it's worth it when you see the look on your partner's face. You will be able to create an experience that will be remembered for a lifetime. Just remember to take it step-by-step and plan for every detail before you go. With these steps in mind, you'll be sure to have the perfect destination proposal that your partner is sure to love.